I
Flight delays and cancellations are always on the rise in West Africa around the holidays in December and the dusty harmattan wind in January and February, which causes severely impaired visibility. Flight delays or cancellations are well known to have serious consequences for both passengers and carriers. While customers experience inconveniences such as missed appointments, missed connecting flights, and other issues, airlines experience a decrease in passenger traffic, revenue, and an increase in operational costs.
In this article, I discussed some of the remote causes of flight delays and cancellations during the harmattan season in West Africa and how airlines can leverage data analytics to reduce the impact of the season on their passengers.
Season and Regulations for Harmattan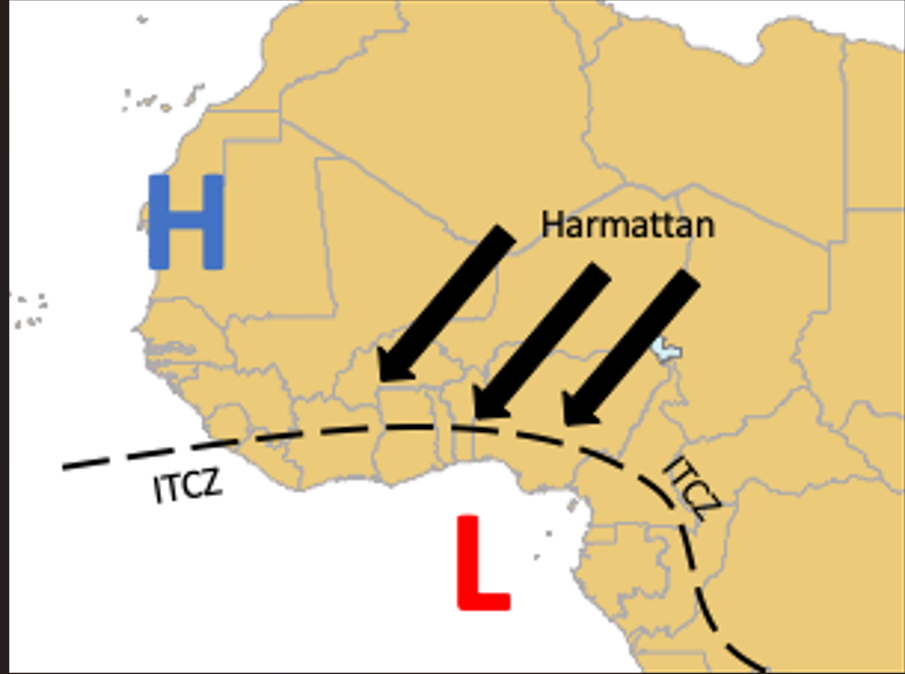 The Harmattan is a West African season that lasts from the end of November to the middle of March. It's named after the dry and dusty northeasterly trade wind that flows from the Sahara over West Africa and into the Gulf of Guinea (Wikipedia.org). This occurrence happens every year, and the aviation industry is always the hardest hit because of the safety and insurance requirements imposed by the Nigerian Civil Aviation Authorities (NCAA). As a signatory to the International Civil Aviation Organization's (ICAO) agreements on commercial airline safety, there is a state minimum visibility requirement for an airline to fly a commercial flight, which is 800 meters if full instrument landing equipment is used.
Furthermore, before a minimum visibility level is set, certain conditions must be met, such as
Serviceable instrument landing systems (ILS) at the airport.
Onboard equipment in the aircraft
Flight crew training
Fuel availability and
Prevailing weather conditions at the departure, en route, and destination airports.
All of these factors affect the aircraft's insurance price and can reduce the visibility needed to perform a trip. As a result, even when visibility reaches 800 meters, some airlines are unable to operate due to a lack of certain criteria, leaving passengers with no choice but to face the inconveniences regardless of who is to blame. However, the Nigerian Civil Aviation Regulation (NCAR) contains legislative measures that resolve all customer concerns in the event of a flight delay or cancellation.
Airline Operations and Data Analytics
The science of studying raw data in order to draw conclusions about it is known as data analytics. It is the process of employing sophisticated computer systems to extract meaning from raw data. These systems transform and organize information. The goal of data analytics in aviation is to study the massive volumes of data collected every day and deliver usable information to airlines, airports, and other aviation stakeholders in order to improve operational planning and execution, as well as any connected products and services.
As a result, given the amount of data available to airlines, adequate attention should be paid to evaluating this data in order to proactively collaborate to forecast and design personalized solutions to existing and future Harmattan seasons such as retraining customer service staff in advance of the issue; reevaluating the schedule and fleet size to ensure they have the technical capacity to deal with the operational delays; and preparing the minds of all employees in advance.
This can be achieved by adopting appropriate analytical tools to evaluate their operational planning and execution to identify areas that require reinforcement. I have evaluated numerous tools, but these two are both simple to use and reasonably priced. Although they appear to be costly, the long-term benefits are extremely rewarding.
Skybook (Bytron Aviation Systems): is the only platform you need to achieve a seamlessly connected airline. Improve efficiency, integrate with other aviation systems and share vital flight data. All tailored to your needs, improve your airline's workflow with fully integrated data, from Dispatch to Flight Deck. https://www.bytron.aero
GE Digital: this product enables you to truly understand your asset data and deliver outcomes that move your business forward in fuel, safety, predictive maintenance, and beyond. https://www.ge.com/digital
Recommendations
Despite the fact that airlines are technically and legally unable to fully meet all of their passengers' needs in several ways, there are still legitimate, effective, and efficient standards and recommended practices that can mitigate or deescalate the issues and challenges that arise as a result of canceled or delayed flights without jeopardizing safety:
Airlines should utilize the passenger's data to enhance pre and post-departure communication between the airline and its passengers.
Airlines should have a data analysis department within their operations to collect and analyze data that will assist management in making informed decisions to reduce the occurrence of unpleasant airline experiences.
Airlines should outsource customer care services to competent organizations that have the manpower and technical capacity to utilize their customer data and deliver great customer care services to their passengers.
Conclusion
In this digital and competitive age, every airline is focused on maximizing asset utilization and providing the best possible customer experience by utilizing data analytics. Weather concerns are natural phenomena that are beyond the control of any airline, despite the fact that they are not exclusive to Nigerian carriers. However, airlines are not without options in these instances because they have a corporate obligation to respond effectively to safety concerns, efficiency, and profitability while also ensuring that the social and legal relationship with passengers is not violated without their consent.
If these and other recommendations receive adequate attention and support from management, I am confident that we will be able to influence not only how our valued passengers feel and perceive the quality of the services they paid for, but also how airline employees treat them.