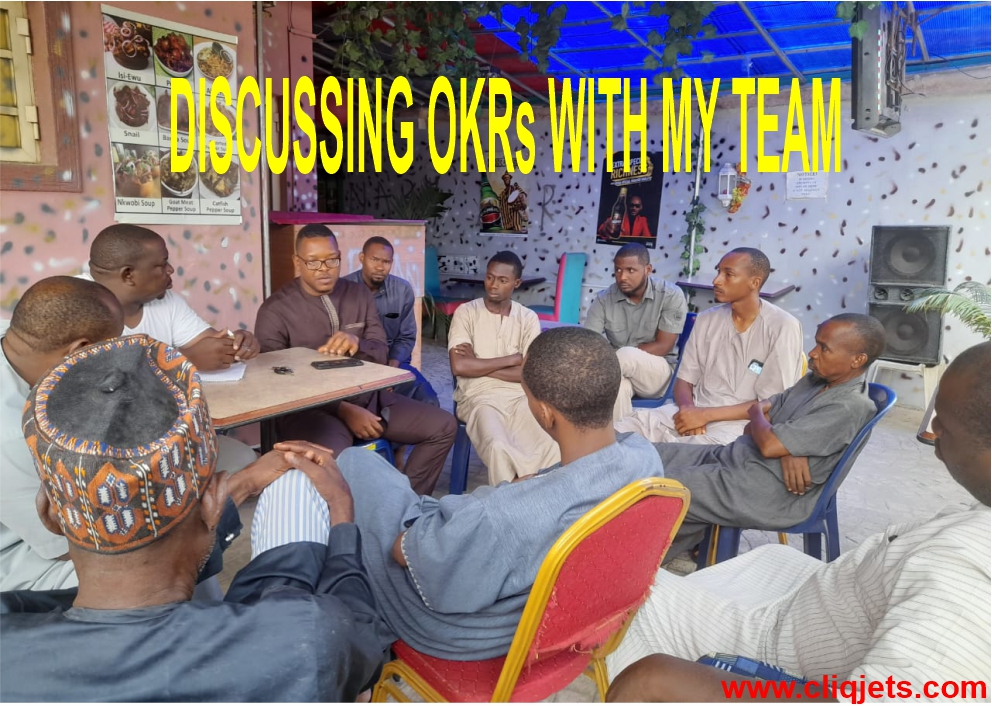 There is no limit to what a team can accomplish with effective leadership, partnership, and collaboration. Many people may find the image below ordinary and unappealing, particularly the picture background, which is contradictory to the subject matter. However, for any team to succeed, discussions like this, regardless of the environment, must take place in which specific and measurable project objectives and key results are thoroughly discussed, and tasks are delegated to team members based on their strengths, weaknesses, opportunities, and threats.
As simple as the scenario in the image appears, discussions like this are the key to the many successes I've had in my five years of managing teams in airline operations. The suit and tie, the air conditioning system, the armchairs, the laptops, and printers may not be present, but the most important fundamentals that determine a team's success, which is the subject of this article, are not compromised.
Features of a Great OKRs for Airlines:
1. Objectives: Airline operation objectives should be aspirational and motivating, aligned with company goals, action-oriented, concrete, and significant enough to have an immediate impact. Good objectives, on the other hand, must answer the following questions:
Does the objective help in achieving the airline's overall goals?
Does the objective align with the company's vision and mission??
Is the objective inspiring and motivational to the employees and even passengers?
Will achieving the objective make a significant impact on the airline's performance in terms of safety, efficiency, compliance, and profitability?
2. Key results: These can be used to indicate the amount of progress to be made in a shorter period of time or to determine whether you have met your goal at the end of the duration. They must also be time-bound, results-oriented (rather than task-oriented), measurable and verifiable, specific and time-bound, aggressive yet realistic, and should push the airline and its teams to achieve more.
CONCLUSION:
Managing airline operations is about having the capacity and competence to set objectives and key results for the company, department, and teams to follow, not about having the best office environment alone. It was never intended for airline operations to be managed haphazardly by the dictates of tradition or sentiment, but rather by leaders who were deliberate, competent, and goal-oriented.
Reference:
1. John Doer (OKRs TED Talk)
2. Google
3. Wikipedia